Rio de Janeiro Rio de Janeiro is the most visited city in South America. It is blessed with sparkling Atlantic beaches, a magnificent harbor, and lush green mountains, and is well-known for the impressive Christ the Redeemer statue overlooking the city. (Read More)
This content requires HTML5/CSS3, WebGL, or Adobe Flash Player Version 9 or higher.

Fun Facts about Rio de Janeiro
For a brief time in 1555 a group of 500 French colonists settled on Villegagnon Island in Guanabara Bay in an attempt to establish a French colony. They named their settlement Fort Coligny.
From the mid-15th to the early 18th century the Portuguese colony was harassed and periodically invaded by pirates and buccaneers who were mostly of French origin.
In 1808, Napoleon invaded Portugal. The royal family, court, and most of the aristocrats from Lisbon fled to Rio where they established the only European capital outside of Europe.
The city is host to the 2016 Summer Olympic Games—the first South American country to host them.
Ipanema Beach hosts a weekly Hippie Fair, with arts and crafts of all sorts on display and available for purchase.
Rio is one of the top destinations in South America for luxurious vacations, beach hotels perched along the exquisite coasts, and long beautiful beaches. It is home to famous Ipanema Beach and Copacabana Beach as well as thousands of others. Cool cultural attractions and a diverse population also help to make Rio an interesting and enjoyable place to visit.
Although Rio is one of the top destinations for wealthy jet setters and boasts a number of exclusive luxury hotels, the city also has a very large population of very poor people. Both the sophisticated city of Sao Paulo and Rio de Janeiro have hundreds of shanty towns (called favelas). There are around 1,000 in the Rio neighborhood known as the North Zone. These favelas climb up the hillsides, with a maze of narrow streets winding through densely-packed shacks. Recent movements to improve the quality of life for residents has resulted in many areas becoming virtual open-air museums with wonderful colorful artwork decorating the sides of buildings for blocks. Ironically, a guided tour through these areas has become popular with tourists.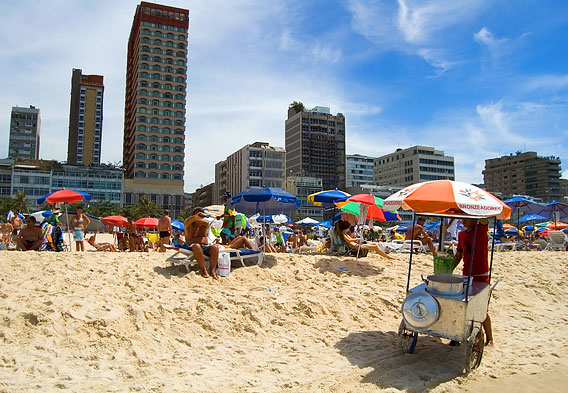 Ipanema Beach
Rio is famous for its sparkling urban beaches, including Barra da Tijuca Beach, Copacabana Beach. Leblon Beach, and Ipanema Beach. Ipanema Beach is in the neighborhood (barrio) of the same name, and was made world famous by the song "The Girl from Ipanema," written by Vinicius de Moraws and Carlos Jobim. These two men were part of the emergence of the 1960's bosa nova sound. Ipanema (both neighborhood and beach) is located next to Copacabana, but Ipanema has a more sophisticated atmosphere with high-end shops, boutiques, restaurants, hotels, and posh luxury apartments. It boasts its own parade during Carnival. The beach itself is divided up into segments that are loosely relegated to certain people and interests. There is a section frequented primarily by the LGBT crowd (you can find it by the rainbow flag), areas for topless sunbathing, volleyball areas, and family areas.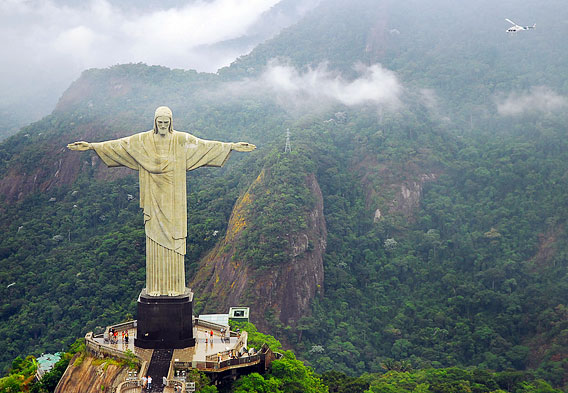 Christ the Redeemer
One of the landmarks of Rio is the huge statue of Christ the Redeemer that towers above the city from the top of Corcovado Mountain, which is 2,300 feet high. Its design is in art deco style, and was constructed over a nine-year period from 1922 to 1931 at the height of the style's popularity. It is made of soapstone and reinforced concrete, and is 130 feet tall, including the 98-foot pedestal. This statue of Christ with outstretched arms is one of the world's most recognizable landmarks, and is Rio's symbol. The statue stands within the Tijuca Forest National Park, and a tram ride to the summit takes you through the rainforest canopy.
Sugarloaf Mountain
Another mountain dominating Rio's skyline is Sugarloaf, which sits on a peninsula at the mouth of Guanabara Bay. It is 1,299 feet above sea level, and is yet another symbol of the city. There are several monolithic mountains jutting straight up along the bay. They are made of quartz and granite and together comprise one of the largest urban rock climbing areas in the world. There are more than 270 climbs with up to 10 pitches, and it's possible to watch climbers from the beaches and other vantage points. For those less adventurous souls, there are two cable cars to the summit.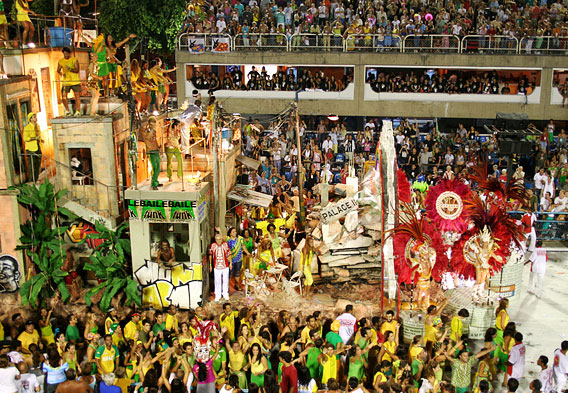 Carnival
Carnivals are held around the world in the days leading up to Easter. They are particularly popular in Catholic countries like Italy and Catholic regions like New Orleans. Additionally, you will find them in virtually every Caribbean island. But the granddaddy of all Carnivals is held in Brazil, with thousands of participants and drawing hundreds of thousands of visitors. Carnival is a two weeklong party celebrated in all the neighborhoods, many of which have their own parades. The main city parade is along Sambodromo, an avenue that is permanently lined with grandstands for better viewing of the elaborate floats and exotic costumes.
Must See Sights
The world's largest football stadium, Maracana, is located in Rio, which is quite passionate about the sport. Many of the 2016 Summer Olympic events take place here, as well as the 2013 FIFA World Cup matches. The city is the home of the passionate and sultry bossa nova style of dance, and there are numerous nightclubs where professional dancers entertain. There are a number of fine museums, including the National Museum, National History Museum, Museum of Fine Arts, and the Museum of Modern Art.
Back to top © Dan Taylor/Destination360. All Rights Reserved